Hi hi, its still Sushi here.. mommy still lazy.. she said since I blogged yesterday, she ask me blog again today. Wee..~
Going to share what is my dinner tonight:
Mommy bought a whole organic chicken, but only this is left for me: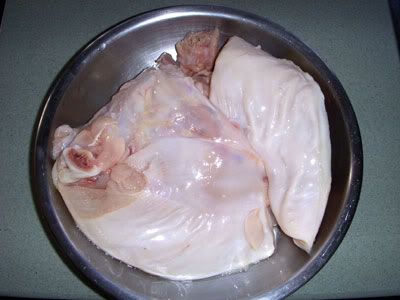 Only the chicken breast... =( I haven't taste a drumstick yet! Mommy washed them and then steamed the chicken for me.
This is how it looks like after it is done: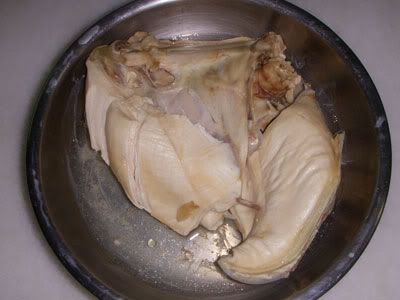 I told mommy actually she can just give me the entire piece, but then she said this is going to last for 2 days meal for me! Oh well.. I don't bother as long as I got my chicken!
Then mommy tear and cut the chicken into pieces for me. She thought I don't have teeth to bite?
But I know why she did that, because she going to mix the chicken with my brown rice. She afraid that I will only choose the chicken and not taking the rice! But she was wrong.. plain brown rice was tasty too!
Eh, mommy forget to take the picture of my chicken rice meal lah.. its all in my tummy now.. so full! yummm!
Oh yah, earlier today, I got to taste the Mango Sherbet that mommy made earlier. It is so sweeeet and tasty! Should ask mommy to blog about this tasty thing!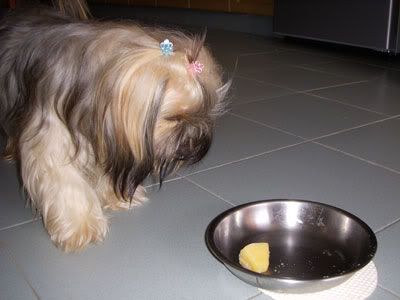 Oh no, didn't know mommy took my photo before I am going to taste my sherbet! I look so ugly :( The following picture is even uglier!! My mouth is all wet after that!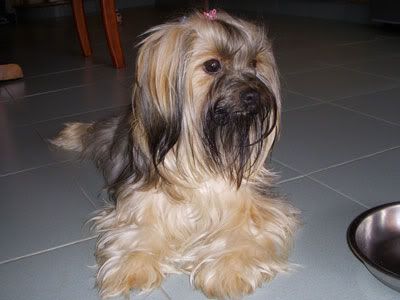 But teehee... it was real yummy! XX and XB also got their share of this sherbet :P Yummmm!