Last post I mentioned that my dogs went to swim in the lake, and we did not plan to go home so early, so we sent them to groom.
Too bad its a Saturday, and most of the good groomers are fully book. So we got no choice and sent them to one of the shop in NZX, that is not so busy. We went for dinner while waiting for them. I told them to call me when they are ready.
I feel a bit heart pain seeing how they handle my dog. They grab them from my hand and just "throw" into the cage :( Sushi was whinning there seeing me leaving, while Miki was jumping in the cage. Sigh... I just hope they don't hurt my dogs.
After dinner, and a short walk around NZX, we went back to the petshop to check if they are done. Its about one and half hour later. When we reached there, my girls are done. I asked the groomer why didn't she call me telling me they are done? She said, "I just about to call later...", she was sweeping the floor. I don't know how true about "she is calling me afterward".
After make the payment we left. I do a minor check in the car, nothing hurt on them. When I reached home, I did another thorough check, no big deal too. Just awhile later I noticed Sushi was licking her back, near the tail there. And I notice some rashes... I quickly apply cream on her. I hope that is the last bad thing I find after the grooming, but I was wrong. I found cuts in the paw and near the ass-hole.
I should have insist to go home and bath them and not send them to this kind of groomer! Never had any problems sending them to other groomers, only once Miki's paw get cut, that was done by the HOG trainee.
Anyway, this is the grooming photos:
Both of them looks so sweet in the photo.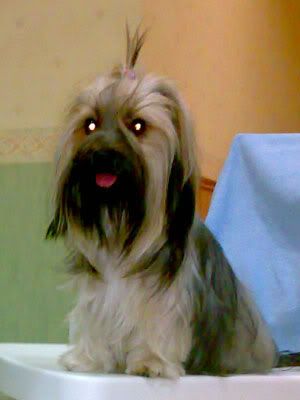 As you can see, Sushi already messed up with her ponytail not long after we reached home. The groomer did not do a great job on that -__- I think I did better. Scroll down to see that I tie her hair again.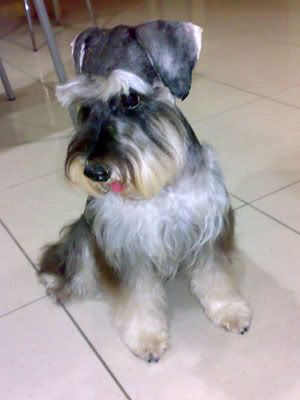 Miki looks silly in this pic. They clipped away some of the Miki's leg fur, end up she looks like having slim legs. I wonder how come they do so much thing for their basic groom, where I just request them to clean their ears, shave the paws, bath and blow dry? Really have to agree to the statement, cheap thing no good, good thing no cheap =)
I don't like the band they used to tie Sushi's hair. It looks like normal human rubber band. I take it off (by cutting the band) after I took the photos, and it pulls a lot of Sushi's hair... zzz... the latex band that I bought and have been using on Sushi, will not pulls any hair if I cut away the band.
I re-tie her ponytail:
Sushi: Mommy did better than that JieJie :)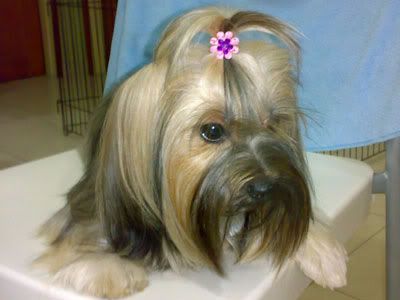 Sushi: I looks so sweet :)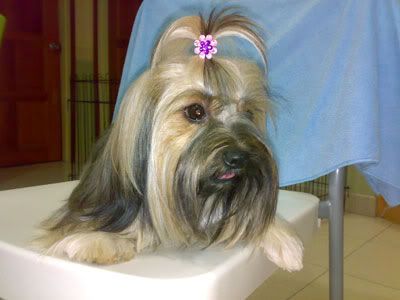 Sushi: Willie, I lenglui mah?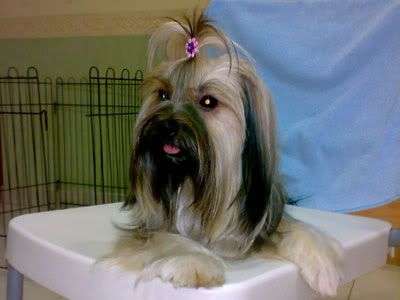 Sushi: This is silly Miki