Today I cooked curry for Sushi. Hahahhaa..... you see!!
I cooked for 3 days portion somemore! The small bowl is one meal portion. Then I take out the portion for dinner tonight before I put everything else into the fridge.
Yes, I really cooked curry hahah, close up: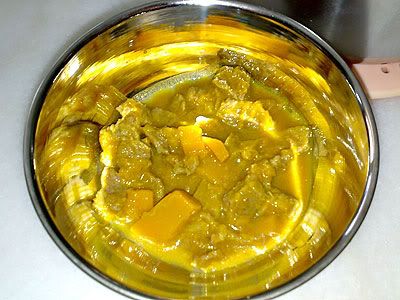 I should cooked a dry
curry
but I added too much water. Oh well, since she doesn't drink a lot, maybe its good to add more water into her body.
YES! This
curry
is for Sushi. I don't fake it kakakka.... Oh I also add some vege puree for her. But I am not showing that, because the colour maybe looks awkward for someone.... greenish
curry
.
Sushi licks her bowl clean!
Actually it is...pumpkin..





*disclaimer: Real Curry is never for dog*