When we were away at mommy's aunt's house, mommy called her brother to feed XB because grandma forgot to top up XB's food.
When we reached home after 3 days, its so surprise to see this in XB's bowl:
It is full of kuaci's skin! Mommy straight away called her brother and nagged him. He took the wrong container and gave only kuaci to XB. He even said,
"hamster em hai sek kuaci ge meh?"
(hamster eat kuaci one rite?)... SWEAT.... nevermind lah.. its just like a feast for her, celebrating CNY!
Then mommy quickly remove everything and refill with Prestige. Now this looks like nicer food for XB.
XB so happy knowing that we were home: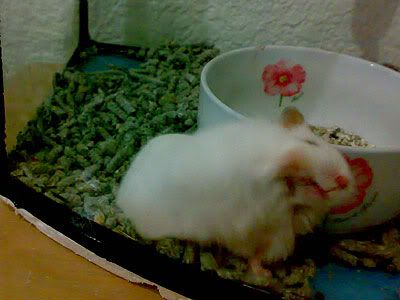 Quickly jump into the bowl after refill Prestige.